Upon A Shifting Plate
Upon A Shifting Plate
Upon a Shifting Plate, by award winning author David D. Levine is the short story that was our first stretch goal for the Unwritten Kickstarter campaign. Until now it's been available only to our backers, but word got around, they said this kid is ins….oh…wait…that's something entirely different. Sorry. AHEM. Word got around, and people wanted their own copy, so here it is!
If you like it, please consider checking out some of David's other works, including The Adventures of Arabella Ashby: Arabella of Mars (which won the Nebula!), Arabella and the Battle of Venus and Arabella the Traitor of Mars.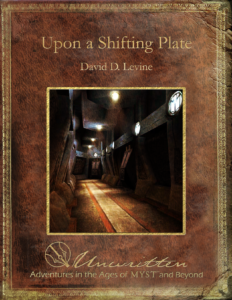 Right click to download the zip file containing epub, mobi and pdf copies of Upon a Shifting Plate.